FitRoller
™
Innovative, adjustable, 4-point foam roller, and massager, it's the perfect solution for reducing cellulite, soothing sore muscles, and improving skin elasticity.
Reduce Cellulite
15 minutes a day towards cellulite-free skin. All-natural, non-invasive. Cellulite does significantly lessen with stimulation, increased blood flow and lymphatic drainage. Our high-tech foam literally does the job for you. We all love a good massage — especially one that reduces cellulite.

Deep Tissue Massage
Beyond myofascial massage FitRoller™ helps release tension, stress, and pain in the muscles by improving natural blood circulation and reducing inflammation to restore mobility and flexibility.

STIMULATES FAT BURN
Ensuring you a healthy recovery and rehabilitation and help your body stimulate some FAT BURN

How It Works
Featuring 4 independent rollers, you'll be able to effectively target all your stubborn fat pockets. Tone your calves and thighs with FitRoller™ by breaking down fats and cellulite in those areas.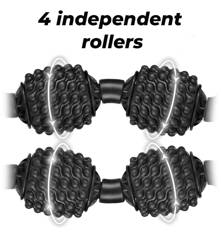 Cellulite is thought to arise when the fibrous bands of connective tissue (fascia) that anchor the skin to muscles break down, allowing fat cells to push up into the skin layer. This creates the uneven, bumpy texture that gives cellulite its cottage cheese-like appearance.
Enhanced blood flow and increased lymphatic drainage  help to reduce the appearance of cellulite. The idea is that increasing circulation to the area strengthens fascia and prevents fat cells from pushing through to cause more dimpling.
Massage Various Parts Of Your Body
Baby Skin
FitRoller™ improves skin elasticity. It will never over-stimulate the skin, despite close contact during the massage.
FAQs
Q. Does the FitRoller™ really work?
A. Yes! The FitRoller™ features an ergonomic design, ensuring that you're getting into all of your deep knots (Even the ones that seemed impossible). The roller also increases blood flow and stimulates lymphatic
Drainage, which helps to minimize your cellulite appearance.
Q. Who can use the FitRoller™?
A. Thanking its versatile design, the FitRoller™ is perfect for any person, any gender and of any age.
Q. Is it painful to use?
A. On your first few applications, it may be slightly uncomfortable, but that means that it's working. The more you use the FitRoller™, the more comfortable your experience will be.
Q. How often should I use it?
A. Typically 15-20 Minutes of Massage will be enough for you to feel relaxed and feel a complete muscle pain recovery
Q. How Fast Can I See the results?
A. Typically after 2 weeks of regular usage you will be able to see visible reduction in cellulite areas
Q. On what Body Parts can I use the FitRoller™ On?
A. You can use the FitRoller™ on your Thighs, Calfs, Neck, Belly (Upto L Size), Heels and Toes. You can also massage your back by lying on the floor and with FitRoller in between or can take someone's helps to roll it on your Back.
Q. Are there any Side-effects of using FitRoller™?
A. Absolutely none at all! Just enjoy a pain free happier life!
THE KRAFTY BEAR GUARANTEE