Are You Annoyed That You Can't Reach All Areas Of Your Back While Taking A Shower?
Then You Need The Easy way out with the Scrubber Genie™!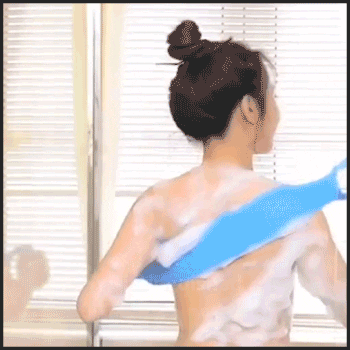 Trying to reach all areas of your back to clean can be a real pain. Sponges and loofahs collect germs and could even make you sick. And if you have any previous arm or should injuries, washing your back may also put too much pressure on your arm and joints.
 
Thanks to the Scrubber Genie™, this stretchy, silicone scrubber allows you to comfortably wash all hard to reach areas. Now you can experience a soothing back massage while gently exfoliating your skin. 

Use the Scrubber Genie™ every day in the shower or bath to unclog pores, stimulate blood circulation, reduce stress, and revitalize your mind and body. 
EASY TO CLEAN - Silicone is semi-hydrophobic making it easy to clean and prevent the build-up of germs.
STRETCHES - Allows you to reaches all of your hard to get to areas.
EXFOLIATING - The flexible bristles help gently buff away dead skin cells leaving you with smoother, softer skin.
SAFE - Made of food-grade silicone, environmentally friendly, BPA free. Durable and high-temperature resistant.

Features: 
✔️ Eco-Friendly and Durable
✔️ Easy-Grip Handles
✔️ Reusable and Long Lasting
✔️ Two Sides to Exfoliate or Massage
✔️ Good for Your Neck, Shoulders, and Feet
Scrubber 
Genie
™
is Designed with
dual-sided
 and 
two ergonomic handles
, making the bath scrubber 
easy to stretch
 to those 
hard-to-reach
areas
, such as shoulder, back and lower back areas.
SO, WHAT ARE YOU WAITING FOR?
GRAB YOURS NOW!
THE

 

KRAFTY

 

BEAR GUARANTEE